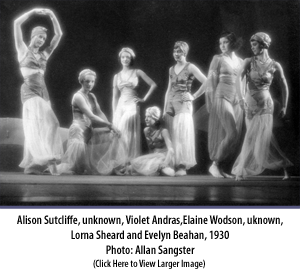 An adventurous spirit and fearless constitution spurred Alison Sutcliffe to take on one exploration after another. She worked in the Toronto arts scene during a remarkable period in which artists from both the fine and performing arts collaborated frequently - a time when an artist from the Group of Seven might design a set for a play staged at Hart House Theatre that included music composed by a faculty member of the Toronto Conservatory of Music with dances choreographed by Alison Sutcliffe or one of her peers. During her career, Sutcliffe crossed paths with such esteemed Canadian music, theatre and visual artists as Ettore Mazzoleni, Sir Ernest MacMillan, Healey Willan, Dorothy Goulding, Lorna (McLean) Sheard, Herman Voaden, Arthur Lismer and Fred Coates. She studied in England, Germany and the United States with some of the greatest dance teachers of the twentieth century including Michel Fokine, Kurt Jooss, Mary Wigman, Martha Graham, Phyllis Bedells, Nicolas Legat, Angel Cansino and Elsa Brunelleschi and then brought all of these influences back to Toronto incorporating them into her teaching and choreography. Working simultaneously with Hart House Theatre and the Toronto Conservatory of Music, her career reveals to us the intersections that existed between theatre, music and dance artists in Toronto in the 1930s. Like her fellow artists, she helped to provide Depression-era Torontonians with an escape from life through the arts.
Born in 1909 and raised in Toronto's west end, she began to dance and perform in Toronto in the 1920s. She danced professionally with New York's Metropolitan Opera Ballet in the late 1920s and returned to Toronto in 1930 where she immediately began teaching dance. For the next decade, Sutcliffe contributed as a dancer, teacher and choreographer to a burgeoning arts community that constantly struggled to find balance between its colonial roots, international influences and a fledgling nationalist scene - all against the backdrop of the Great Depression. Between teaching seasons, Sutcliffe ventured to England and Europe for summer studies. Sutcliffe's teaching career continued after she moved away from Toronto in the early 1940s; however, this exhibit will focus on her work in the 1920s and 1930s and the links that existed between the Toronto Conservatory of Music, Hart House Theatre and a small but developing group of dance artists.
Alison Sutcliffe's archival collection reveals new connections in the Toronto art scene of the 1930s. She saw hundreds of performances and participated in almost as many; she collected brochures from performing arts schools across Toronto and hung onto a considerable amount of documentation from her career including numerous photographs, 8 mm films, newsclippings, house programs, correspondence and personal notes. She even kept her tunic and silk stockings from her days at The Met - a rare treasure!
In addition to Sutcliffe's materials, the portfolios of Eugenie (Pete) Beatty and Bettina Byers at Dance Collection Danse have been consulted as well as the Bertram Forsyth, Melville Keay, Geoffrey Keighley, Nancy Pyper and Toronto Children Players collections at the Toronto Reference Library. Secondary sources include the Encyclopedia of Music in Canada edited by Helmut Kallman and Gilles Potvin (2nd edition, University of Toronto Press, 1992 and its online counterpart), the anthology Later Stages: Essays in Ontario Theatre from the First World War to the 1970s edited by Ann Saddlemyer and Richard Plant (University of Toronto Press, 1997), and Mary Jane Warner's Toronto Dance Teachers, 1825-1925 (Dance Collection Danse Press/es, 1995). Special thanks go to Elsa Brigden and Barbara Chilcott.
I think the biggest challenge in trying to convey the story of Toronto's performing arts community in the 1930s and Alison Sutcliffe's role in that story is getting across how vibrant a scene it was. While the community was small compared to today or even at mid-century, it was busy. In sifting through programs from the era, one sees the same names over and over - these performers, designers, writers, stage managers and directors were constantly involved in shows and sometimes overlapping productions while also teaching, attending school or doing other jobs. It is remarkable to realize that the amateur activity of the 1920s did not slow down when the Great Depression hit, but rather continued to grow and develop while the artists involved honed their craft and at the same time built a foundation for a time when Toronto artists could earn a living in their own city.
This exhibit is dedicated to those artists, so many of whom have been lost to history: Carroll Aikens, Andrew Allan, Violet Andras, Jack Arthur, Josephine Barrington, Evelyn Beahan, Elsie Bennett, Florence Blaisdell, Lloyd Bochner, Murray Bonnycastle, Henry Button, Bettina Byers, Rhoda Byers, Brownlow Card, Patricia Card, Raymond Card, Barbara Chilcott, Fred Coates, Estelle Cohen, Francis Coombs, Margaret Craigie, Blair Cutting, Cecil DaCosta, Donald Davis, Murray Davis, Merrill Denison, Brian Doherty, Margaret Fax, Marion Fax, Winnifred Fax, Bertram Forsyth, Evelyn Geary, Ann Goulding, Dorothy Goulding, Dorothy Jane Goulding, Helen Goulding, Susan Goulding, Lawren Harris, Barbara Hepburn, Betty Hepburn, Babs Hitchman, H.E. Hitchman, Marion Hobday Allen, Wallace House, Kathleen Irwin, Melville Keay, Arden (Fortner) Keay, Geoffrey Keighley, Bunny Lang, Leon Leonidoff, Arthur Lismer, Sir Ernest MacMillan, Jean MacMillan, Jean Macpherson, Fred Mallett, Jane Mallett, Frederic Manning, Mildred Marsh, Raymond Massey, Vincent Massey, Ettore Mazzoleni, Winnifred (MacMillan) Mazzoleni, Ross Millard, W.S. Milne, Heasel Mitchell, Roy Mitchell, Dora Mavor Moore, Agnes Muldrew, Everard Nash, George Patton, Ray Purdy, Nancy Pyper, Helen Richardson, Florence Rogge, Mary Ellen Rumball, Allan Sangster, Gladys Schnick, Percy Schutte, Lorna (McLean) Sheard, Walter Sinclair, Edgar Stone, Phyllis Strathy, Evelyn VanValkenburg, Herman Voaden, Boris Volkoff, Healey Willan, Elaine Wodson and, of course, Alison Sutcliffe, to name but a few.

- Amy Bowring

©2008, Dance Collection Danse
Alison Sutcliffe Exhibition Curator: Amy Bowring
Web Design: Believe It Design Works