KATE CORNELL
FEBRUARY 2012
DANCE HISTORIAN OF THE MONTH
INTRODUCTION
Welcome to DCD's "Dance Historian of the Month" – a series that features interviews with Canada's dance historians. We hope to illuminate aspects of the person, their craft, the field, and to provide insight into what inspires those who interpret our dance pasts. The interview is accompanied by a photo, giving a face to the bylines. Often veiled by computer screens, untouched by stage lights and represented only by their printed words, historians are the intangible forces that spur dance on. Our interview is your introduction to the historian herself.
Kate Cornell is a dance educator, writer and consultant based in Toronto. Kate has taught dance history and arts education courses with Ryerson University, York University and Charles Sturt University. She has also inspired children through her work as a dance educator in the Western provinces, Nova Scotia and Ontario. For example, she helped refresh approaches to teaching youth when working with the Royal Conservatory of Music's Learning Through the Arts program, which assists school teachers to use dance as a tool for instructing science, social studies and other subjects. Her experience archiving Canadian dance collections at The National Ballet of Canada and the Toronto Dance Theatre, motivated Kate to publish a book on Toronto Dance Theatre with Nadine Saxton in 1998. Moreover, her research on Canadian cultural policy is a unique resource that evaluates the impact of policy on Canadian dance. Kate's work in various aspects of Canadian dance allows her to bring a wealth of experience to the cultural organizations that she works with such as Dance Ontario, DanceWorks and the Canadian Society for Dance Studies.
In 2008, Kate completed a PhD in Communication and Culture, a joint program between York and Ryerson Universities. Kate is one of DCD's youngest Dance Historians of the Month and I look forward to witnessing her continued accomplishments in the field. Her energy and passion for dance is inspiring and has already led to many accomplishments.
Sincerely,
Carolyne Clare
DCD Metcalf Foundation Intern
INTERVIEW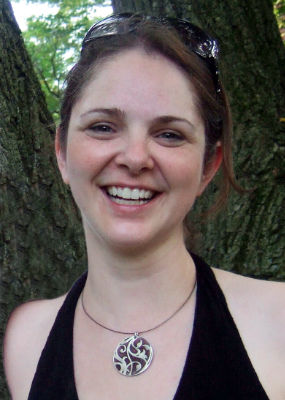 Name: Katerine Cornell
Place of birth: Scarborough, Ontario
CC: Why did you start dancing?
KC: I'm not sure I should admit to this publicly. In the 1970s, I used to watch Donny and Marie Osmond and dance in front of the television. Like many children, I had a fascination with dance. I come from a very artistic family; my mom is a music teacher and my dad is a visual arts teacher. They encouraged my dancing and found schools where I could receive formal dance training. I started dance lessons at age seven and I loved them immediately.
CC: Where did you study dance?
KC: Primarily, I studied at the Thornhill School of Ballet with Patricia Upcraft who was a former dancer with Les Grands Ballets Canadiens. Her husband, Graham Upcraft, was a pianist and he accompanied our dance classes. It was a wonderful setting to learn dance and I got my first teaching job at the school. I found that I loved teaching as well as dancing.
CC: Did you perform when you were a child?
KC: Yes, I absolutely loved performing. I was often noted, not for my feet, but for my musicality.
CC: Did you continue studying dance as an undergraduate student?
KC: Yes, I decided to study dance at the University of Waterloo. I started in 1991, and I had many wonderful professors. One that really inspired me was Dr. Barbara Soren, who taught an introduction to dance history course. In the first few weeks of class, Dr. Soren brought us to The National Ballet of Canada's archives where I met Assis Carreiro, the company's archivist. I was forever changed.
At the time, the archives and the company were still at St. Lawrence Hall. The archives were mainly piles and piles of paper stored in a tiny room that was just teaming with history. I knew that I wanted to work there, so I called up Assis Carreiro and told her that I would like to volunteer at the archives for the summer. Calling her was a pretty bold thing for me to do. She accepted and I volunteered for a month. Later in the summer, we received an Ontario Arts Council grant and I was hired to work for July and August.
The previous summer, the company had received three grants to hire summer students. The summer I worked there, the company only received one grant and so I was three students in one. I worked in the publicity department, at reception and with archives and education. I had two major projects with the archives that summer. The first was to identify a pile of photographs by Ken Bell, who was the company's primary photographer during the 1950s. I identified every choreographer and every dancer in the images; it was a huge education for me.
My other major project was to catalogue Erik Bruhn's library. Being such a bunhead, I was very excited to work with the library. I enjoyed recording all of the notes that he'd written in the books. Bruhn passed away in 1986 and I couldn't believe that the collection had not been catalogued yet. I had always been a lover of history but after that summer I was hooked. I knew that I wanted to build a career in dance history.
CC: What excited you the most about the archives?
KC: The archives were right next to the dance studio. The dancers were performing the history that I was holding in my hands. If the dancers were rehearsing Giselle, then I could pull out photographs of the company's first production of the ballet. It was wonderful to revisit history through live movement and historical photographs.
I was also excited by the significance of the dance collection as a testimony of dance's contribution to Canadian culture. Of course, I was also a fan of all the dancers I had seen on stage and it was fun to work with their materials. It was also a really cool place to be – Karen Kain would walk by your office!
CC: Did you take many dance history courses as an undergraduate student?
KC: While I studied at the University of Waterloo, I focussed primarily on dance. However, in my second year, the university decided to cancel the dance program. As the vice-president of the Dance Student Association, I put a lot of effort into defending the program. I eventually conceded that we lost that battle and I decided to transfer to the University of Guelph to do a degree in Canadian history. I thought I would be well served by a history degree because it would give me a sense for the bigger picture before focussing on dance history. It was one of the best decisions I ever made. I managed to finish my history degree in two years and I therefore completed my undergraduate studies within four years of finishing high school, as I had initially anticipated.
During my studies at the University of Guelph I read an article by historian Jack Granatstein about the first ten years of the Canada Council for the Arts. There was a footnote in the article that referenced the Kirstein-Buckle Ballet Report and I was hooked. Once I started my M.A., it took me several months to find the report, which I found in Ottawa at Library and Archives Canada. The report had blacked out sections and an attached letter that Balanchine had written and signed. In the letter, Balanchine declined contributing to the report and explained that he would send his colleague Lincoln Kirstein to write one of the reports instead. I was so excited just to touch a letter Balanchine had signed (but of course, no one else there appreciated my gasps of delight).
CC: Did you focus your undergraduate studies on dance history within the Canadian history program?
KC: I did my undergraduate thesis on Canadian dance history. I studied the period from when The National Ballet of Canada was founded to when the Canada Council for the Arts was created, 1951-1957. I was interested in finding out what the National Ballet did to fund their work prior to having financial support from the federal government. I thought it would be a very informative period and I was captivated by studying cultural policy. I wanted to find out how cultural policy influenced the dance community. I continued doing research on policy for my Masters.
CC: Where did you pursue your graduate studies?
KC: I completed my Masters at York University from 1996-1998. My graduate thesis focussed on the Kirstein-Buckle report. I also took courses outside the dance department. I took a course with the history department and another with Joyce Zemans, former director of the Canada Council for the Arts, on the history of cultural policy.
CC: What did you do after you completed your Masters?
KC: I worked for six years as a writer, educator and administrator for various arts organizations across Ontario. In 1998, I published a book with Nadine Saxton about the history of the Toronto Dance Theatre. I started teaching at Ryerson University. In addition, I worked with elementary school children in Toronto and Nova Scotia through the Royal Conservatory of Music's program called Learning Through the Arts, through which I helped teachers use dance as a physical aspect of teaching subjects such as social studies or geometry. The program was incredibly rewarding. It was so wonderful to bring movement to students and teachers who really never considered it.
CC: Why did you decide to return to school?
KC: I really, really wasn't going to do a PhD. However, during those six years my time was being divided between so many different things. I was travelling a lot and I was tired of freelancing. I loved teaching at the university level and I wanted to make it my focus.
CC: Where did you do your PhD?
KC: I was part of the joint Communication and Culture program with York and Ryerson Universities. I thought that I wouldn't do my doctorate on cultural policy. I felt like I was always the one at conferences who talked about money and I was interested in researching something more artistic for my dissertation. However, my advisor, filmmaker Bruce Elder, in his great wisdom, suggested that cultural policy was a fascinating and important topic and that I could benefit from writing on a subject that I already had a lot of knowledge about. I ended up doing my undergraduate research on cultural policy from 1951-1957, my Masters on 1957-1963 and my PhD on 1967-1983. I have been researching cultural policy for several years and I feel that it is a significant lens through which to examine culture. In my dissertation, I was interested in seeing if cultural policy and funding enabled dance artists. I selected five dance artists and studied how one work from each of them was or wasn't influenced by cultural policy. In this context, I studied five choreographies in detail and this aspect of my research satisfied my creative soul.
CC: How do you balance your different passions? Dancing, writing, researching and teaching are all very different kinds of pursuits.
KC: Yes, true. I love the sensation of dancing, of defying gravity and moving beyond my body. When I find a topic that really excites me, writing can give me the same sensation of flow, or heightened joy and awareness. Writing can be a challenge at times but I find researching incredibly inspiring and easy to continue doing for many hours at a time. With teaching, I think it's in my genetic code. Since my parents were teachers, I observed them teaching and learned from them. I find it satisfying to see a student grasp a concept that you are trying to convey. Teaching also allows me to share my passion; it seems pointless to have a passion if you can't communicate it to others. I love the challenge of communicating ideas as clearly as possible to a wide range of students. I don't mind repeating lessons from one year to the next in order to discover the best way of delivering my teaching material. All of my teaching tends to include my interest in history and movement. I love getting students to move.
CC: Do you still find time to dance?
KC: I had knee surgery in my twenties and that changed my perspective on dancing. Dancing became less rewarding than it had been in the past. I haven't taken dance class in a while but I've really gotten into yoga and Pilates. I keep moving but it's in a different way.
CC: What led to the Toronto Dance Theatre book?
KC: While I was doing my Masters at York University, we were assigned to read previous students' theses. I picked Nadine Saxton's administrative history of the Toronto Dance Theatre (TDT). I was quite inspired by it. I met her in the fall of 1996 and I became her assistant for her first-year ballet class. We totally got along. During the winter of 1997, I heard that the TDT was trying to organize their archives. I brazenly called up the general manager of TDT, Jini Stolk, and explained that they should hire me with a grant from the Department of Canadian Heritage. She agreed and without meeting me, she applied for the grant, which she received and then used to hire me. I met her for the first time on my first day of work. During the summer, I primarily worked with TDT's paper collection, which we donated to the Clara Thomas Archives & Special Collections at York University. A few weeks into working with the collection, I realized that there were so many great photographs and I felt that someone should publish them. I knew that TDT would be celebrating its thirtieth anniversary the following year and I thought it would be a good opportunity to publish a book. I decided to go see Nadine Saxton and I proposed my idea to her. Thankfully she agreed although we only had one year to get the book out in time for the anniversary. So we embarked on a crazy year of writing.
CC: You wrote the book in one year?
KC: Yes, we drew upon Nadine's thesis for the first three chapters of the book. We co-authored the other chapters and I pulled together a wealth of photographic resources from the archives. It was the first time that Nadine and I had done a team writing project, so it was a crash course for us both. It was an incredibly supportive and inspiring experience. We worked really well together at a similar pace and we developed an amazing friendship. Once we completed the first draft, Nadine's mother-in-law, Juliana Saxton, a Professor Emeritus of Theatre at the University of Victoria, assisted us in editing our work. She helped us polish our writing and get the work done within our limited time frame.
At the last minute, our first publisher pulled out of the project. They felt that the book had too many photographs, which were expensive to publish. We were a little upset but Nadine had connections with publishers. She negotiated with Captus Press, which is York University's press and they agreed to publish our book within two weeks of our initial deadline. We managed to go to press for our original goal of publishing the work on time, for TDT's thirtieth anniversary performances.
CC: That must have been a huge relief. What an accomplishment. Why do you think dance history is important to dance?
KC: There are many reasons. If we can clearly communicate our history, then we can advocate for the form. I deeply believe in the importance of advocacy. The most significant work that I've done as a dance historian has been with people who know little about dance. I love sharing my passion for dance with the general public and I view it as a way of advocating for the art form.
CC: Why is dance important to you?
KC: Dance is important because it feeds our souls. I see artists as leaders of our society that take us to the next paradigm and help society progress. On a practical level, dance is physically satisfying and so I encourage my students to view themselves as dancers and artists. Telling young students that they are artists is transformative for them. They view dance and athletics as being unattainable but calling the students "artists" allows them to view themselves differently. Dance empowers my students.
CC: Do you have a favourite dance artifact?
KC: I don't think anyone has ever asked me that before. Well, in the summer of 1996, I worked with a tutu at the National Ballet that had to be identified. The tutu had clearly been sewn multiple times and reassembled for different dancers; it had patches all over it. Sharon Vanderlinde, at the National Ballet archives, and I compared the costume to various photographs from the 1950s but we could not find a similar costume in the photos. Finally, we brought the costume to Joanne Nesbitt who had been a dancer at the National Ballet and, at the time, was a ballet mistress. To my amazement, Joanne not only identified the ballet, choreographer, music, dancer and date but she also proceeded to dance the choreography. I was astonished by her muscle memory, her intelligence and her ability to identify something I'd spent days desperately trying to identify. That is one of my favourite artifacts but there are others. I liked trying to get Celia Franca's Lady Capulet costume into a storage box; it was so heavy and huge. It was also fun to hold Nureyev's boots from when he worked with the company. I love the National Ballet's costume collection. It's small but mighty.
CC: Nationalism seems important to you. Why?
KC: Since both of my parents are teachers we had summers off. I grew up camping in the summer and going to art galleries, forts, museums and other cultural and historical places. Since my dad is a painter, he'd often tell us the mysterious story of Tom Thomson's death. The Group of Seven loomed large in my childhood and was a symbol that resonated with my understanding of being Canadian. Those experiences inspired me to find a similar expression of nationalism in Canadian dance. While I worked at the National Ballet's archives I was surrounded by culturally significant documents and I became even more preoccupied with the concept of nationalism.
CC: What are you working on now?
KC: It's a long list. I am currently the director of the Canadian Society for Dance Studies and I am managing our upcoming conference that will be in Montreal from May 31 to June 3 called "Collaboration: Intersections, Negotiations, Mediations in the Worlds of Dance". I am teaching a theatre history course at Ryerson University and team-teaching an arts education course at Charles Sturt University, which is an Australian university with a campus in Burlington, Ontario. I am the education and outreach manager for DanceWorks and I am helping Dance Ontario plan their conference called "Connecting the Dots". Additionally, when I have time, I am also slowly writing a book called Art at the Heart of Every School. The book looks at the role of artists in schools and I will focus on writing it at the end of the summer.
CC: In addition to your long list of commitments, you are also a mother. Can you tell me about being a dance historian and a mom?
KC: Being a mother has really helped me put things into perspective. I know, lots of people say that; however, it's true. Being a mom makes me value creative expression even more, which I think is essential to humanity. I want to focus my energy on creative projects that I think will help the next generation. I want to leave them an artistic legacy. My daughter also inspires me to be more creative and, by necessity, to work efficiently. She also appreciates what I do. The other day she said, "Mommy, I'm an artist. My cousins are artists. You're an artist too." It's fantastic to hear her say those words; I'm getting support from the most important person.
CC: How old is she?
KC: Four.
CC: So you were just wrapping up your dissertation when she came along?
KC: Yes, I finished writing my dissertation on Labour Day weekend in 2007 and I was six months pregnant. My committee took until December to evaluate my work and we thought I could defend at nine months. That did not happen. I defended my work five weeks after giving birth. It was made possible thanks to my awesome husband and mom who helped look after the baby. It was not my first choice in timing but you work with it. I was also the first ever PhD student at Ryerson to successfully defend a dissertation.
CC: Wow, that's outstanding.
KC: I often tell women my story.
CC: If you could return to an era of dance past, where and when would you go?
KC: I will pick an exact date. July 1, 1967. I would have gone to see Feux-Follets perform for the Queen on Canada Day. It may not seem exciting to only go back forty-five years but the centennial was such an amazing time. I would have loved to see Expo '67. There were also many productions touring across Canada, including a train with historical memorabilia. There were about a million school children who saw the train as it travelled across the country. I love hearing my parents' stories about 1967 and I think I would have really enjoyed the widespread enthusiasm for Canadian culture.
CC: Considering your energy and passions, I'm sure you would have helped others enjoy the centennial cultural programs.
KC: Yes, that would have been rewarding.
CC: I'm glad you're around today though. I imagine that contemporary society is more in need of someone who can raise our spirits through arts education.
KC: Thanks, my work is a joy.
RELATED
DCD DISCOVER (Coming Soon)
PERSONNEL
Miriam Adams, C.M.
Co-founder/Advisor
Amy Bowring
Executive and Curatorial Director
Jay Rankin
Administrative Director
Vickie Fagan
Director of Development and Producer/Hall of Fame
Beth Dobson
Archives and Programming Coordinator
Michael Ripley
Marketing & Sales Coordinator
CONTACT
1303 – 2 Carlton St.
Toronto, ON
M5B 1J3
Canada
Phone: 416-365-3233
Fax: 416-365-3169
info [AT] dcd.ca
HOURS
Mon. – Fri. 10 a.m. – 5 p.m.
Appointment Required
Contact our team by email or call one of the numbers above