ABOUT DCD
EVERYTHING YOU NEED TO KNOW
ABOUT
Click the "+" to view the content for each section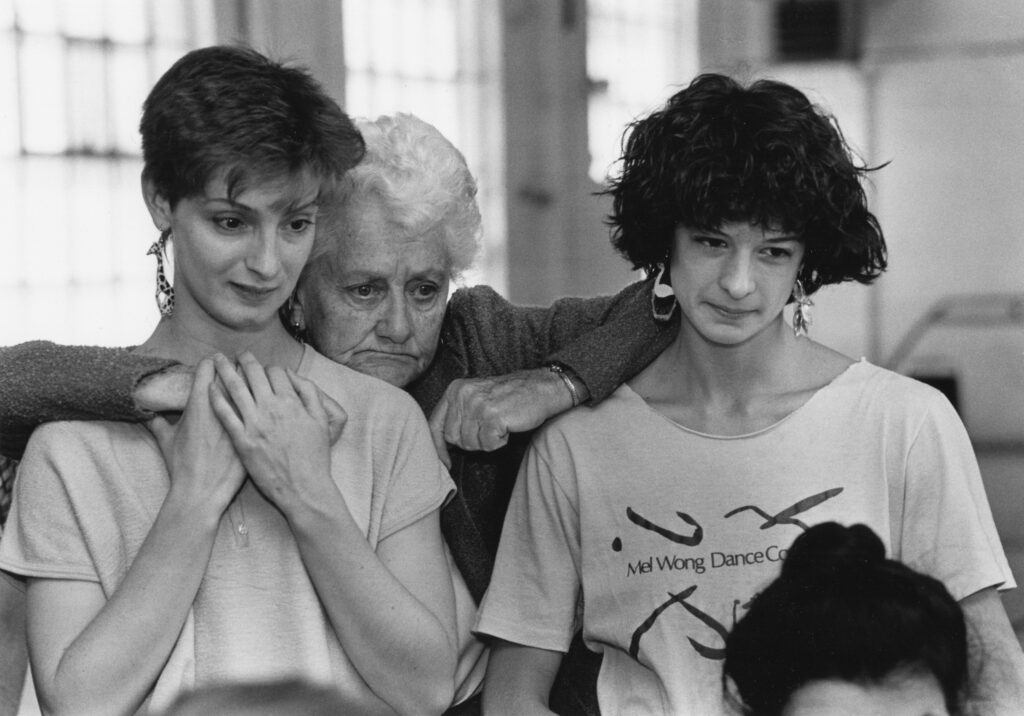 IN THE BEGINNING
In 1983, under the banner ENCORE! ENCORE!, research was begun into choreographies created by Canadian dance artists working in the 1940s and 1950s for the purposes of preserving their works through reconstruction, notation, videotape, and photography.
Assuming the enormous task of uncovering Canada's fleeting dance story, as well as recognizing the importance of disseminating this information, DCD, with the assistance of the Laidlaw Foundation, began the task of interviewing dance pioneers as well as gathering documentation of their choreography.
The work of six Canadian choreographers was chosen, based on existing records, e.g., notes, film, photographs, music scores, and the availability of the original choreographer and/or dancers. These artists were: Gweneth Lloyd, Nesta Toumine, Nancy Lima Dent, Françoise Sullivan, Jeanne Renaud, and Boris Volkoff. Following three years of research, studios were rented and dancers were hired to learn the works. Choreographic directors David Earle, David Adams, and Daniel Jackson were employed to oversee the reconstruction rehearsals. The complete choreographies were videotaped and many were notated. The resulting documentation set an historical benchmark for Canadian choreography.
From this work, DCD produced a show based on the early Canadian dance story titled There's Always Been Dance, which was performed at the Canada Pavilion at Vancouver's EXPO '86. Featuring Jackie Burroughs, Vanessa Harwood, and Ricardo Keens-Douglas, the 40-minute show was choreographed by Anna Blewchamp and written and directed by Jim Purdy.
As a result of the reconstruction research, Dance Collection Danse became a repository for and a national centre dedicated to Canada's dance history. We have achieved a world-wide reputation as a pioneer in the collection, preservation, and dissemination of Canada's dance legacies. DCD's vast collection of dance-related material includes documentation and artifacts consisting of items such as business and personal records, choreographic notes, correspondence, house programs, film and video, audiotapes, photographs, props, sets, backdrops, costumes, visual art, and other memorabilia. We receive archival material as donations from arts professionals and the general public and we share our unique resources through public and virtual exhibits, workshops, publications and events. Originally focused on theatrical dance history, DCD revised its collections policy in 2018 removing the adjective "theatrical" so that the collection could encompass dance in all its myriad forms whether that is social, spiritual, or theatrical.
In the late 1980s, DCD began its electronic publishing program distributing books on floppy disks. DCD also established The Arts Network, which used a virtual Bulletin Board as a means of electronic communication. In 1992, DCD shifted to publishing books in print and has now published 40 titles. Dance Collection Danse Magazine is published annually and is the only magazine in the nation dedicated to dance history. We also maintain a vigorous virtual publishing program on DCD.CA, which is home to several exhibitions, podcasts, and Q&A series. In the early 2000s, DCD initiated its Grassroots Archiving program providing workshops and consultations to the dance community to help practitioners safeguard their works and archival materials while their careers continued.
Located in the founders' Victorian house in downtown Toronto for the first 28 years of the organization's existence, DCD moved to new headquarters in 2013 that provided more space for researchers and an exhibitions gallery. Exhibitions covered histories such as Alan and Blanche Lund, the Toumine backdrop collection, and the groundbreakings exhibits By Invitation Only: Dance, Confederation, and Reconciliation co-curated by Amy Bowring and Troy Emery Twigg, as well as It's About Time: Dancing Black in Canada 1900-1970 curated by Seika Boye. A sale to developers pushed DCD's headquarters to a smaller but vital space at 2 Carlton Street where we process new acquisitions for off-site storage and assist researchers in the Reading Room. DCD continues to maintain off-site storage in Oakville and Ajax, Ontario.
In 2020, DCD embarked on its most ambitious digital project to date – the creation of DCD Discover to provide greater access to DCD's collection as well as dance materials held by other heritage and arts organizations. It is also a place for practicing artists and dance groups to archive their own histories digitally.
DANCE COLLECTION DANSE
Dance Collection Danse, founded in 1986 by Lawrence and Miriam Adams, is a national arts organization that safeguards Canada's dance archives and artifacts and disseminates this history through its varied programs. A unique organization straddling the performing arts, museum, and archival communities, DCD offers the opportunity to understand, investigate, and experience the legacies of dance in Canada. In addition to managing Canada's largest collection of dance materials, DCD shares dance heritage internationally through virtual and live exhibits, lectures, workshops, educational kits, publishing projects, and by supporting research. It has also developed the DCD Discover portal, which will ultimately lead to full online access to DCD's collection as well as dance materials from individuals, and arts and heritage organizations. DCD celebrates Canada's dance legacies annually through the Dance Collection Danse Hall of Fame, which includes a live event and online content.
PERSONNEL

AMY BOWRING
Executive and Curatorial Director
Amy Bowring holds an honours B.A. in Fine Arts Studies from York University and an M.A. in Journalism from the University of Western Ontario. She was mentored by DCD co-founders Lawrence and Miriam Adams, and has been involved with the organization in various capacities since 1993. She is one of Canada's foremost advocates for the study and preservation of Canadian dance heritage.
A dance writer and historian, she founded the Society for Canadian Dance Studies in 2000, which she directed for 10 years. She has written historical essays and articles for books and magazines including the Canadian Encyclopedia, International Dictionary of Modern Dance, Encyclopedia of Theatre Dance in Canada, Dance Chronicle, Right to Dance: Dancing for Rights, Canadian Dance: Visions and Stories, Renegade Bodies: Canadian Dance in the 1970s and The Dance Current, where she was also the copy editor for 13 years. Amy has curated several virtual and live exhibitions and teaches dance history at Ryerson University.
Amy is a co-recipient of the 2002 Toronto Emerging Dance Artist Award for her work as a dance writer. She was a board member for Dance Media Group, sat on the steering committee that founded the Canadian Dance Assembly, and has served on the Discipline Advisory Committee for Dance at the Canada Council for the Arts, the Advisory Board of the international journal Dance Chronicle, and several conference committees. Amy is the editor of Down to Bowring's: A Memoir written by her grandfather, Derrick Bowring (Creative Book Publishers, 2015). Her book Navigating Home: Artists of the NL Dance Project was published in 2019. Her research interests are focused on theatrical dance in Canada in the early to mid-20th century, as well as the dance history of St. John's, Newfoundland and Labrador including patriotic performances in St. John's during World War I, and the development of postmodern dance in St. John's in the 1970s and 1980s. She is currently a co-investigator of the SSHRC-funded Gatherings: Archival and Oral Histories of Performance.

MIRIAM ADAMS, C.M.
Co-founder and Advisor
Miriam Adams, Co-founder/Advisor of Dance Collection Danse, is a graduate of the National Ballet School and former dancer with The National Ballet of Canada. She and her late husband, principal dancer Lawrence Adams, moved on to teach, choreograph and found 15 Dance Laboratorium, Toronto's first experimental dance venue. The Adamses became publishers, producing the newspapers SPILL and Canadian Dance News, and created Visus Foundation, established to videotape dance activity in Canada. In 1983, they initiated the ENCORE! ENCORE! reconstruction project, designed to rescue Canadian choreographic works created in the 1940s and 1950s. This led to the founding of Dance Collection Danse, Canada's national dance archives and publishing house. Miriam Adams has overseen the publishing of 40 books and was Publisher and Editor of Dance Collection Danse Magazine. She has been a board member of the Toronto Arts Council, the Dance Umbrella of Ontario, the Nightingale Arts Foundation, Artscape, Judy Jarvis Dance Foundation, the Dancer Transition Resource Centre and was named Adjunct Professor at York University in 2006. She received a Dance in Canada Service Award; a Mayor's Medal of Service; and, with Lawrence, the Dance Ontario Award for contributions to dance. In 2009, she won the Rita Davies and Margo Bindhardt Cultural Leadership Award. Miriam was appointed to the Order of Canada in 2011 and is a recipient of the Queen Elizabeth II Diamond Jubilee Medal. She received the 2021 Ken McCarter Award for Distinguished National Ballet School Alumni.

JAY RANKIN
Administrative Director
Jay is a leader in the Canadian professional dance community with management experience in Toronto, Vancouver, Montreal, and Winnipeg. Jay has a history of leading organizations to new levels of success financially and organizationally. His expertise extends to strategic planning, programming, human resources, touring, board development, financial management, marketing and PR, government relations, design and production. He has worked as Executive Director of Ballet BC, Managing Director of Toronto Dance Theatre, as directeur général at BJM Les Ballets Jazz de Montréal, and as a manager for many dance organizations across Canada. Jay continues to work with independent performers and as producer for theatre artist Tomson Highway.

VICKIE FAGAN
Director of Development and Producer/Hall of Fame
Vickie has a background in marketing and communications, and continues her work as a producer and writer. Among many other media-related endeavours, Vickie was a producer and co-writer for the CBC special The Curse of Clara, an animated film derived from her short story originally published in Descant Literary Magazine. The film won the 2017 Canadian Screen Award for Best Animated Program or Series. In her earlier life, Vickie trained at Canada's National Ballet School and worked as a freelance contemporary dancer.

ELISABETH KELLY
Archives and Programming Coordinator
An archivist and historian based in Toronto, Elisabeth has a BFA in Performance (Production) with a Minor in History from Toronto Metropolitan University (previously Ryerson University), and a Master in Museum Studies from the University of Toronto. She originally trained in theatre costume and props before shifting focus to dance costume and history and its lack of representation in museums. She has been a T.A. and G.A. in the TMU History and Fashion departments and worked with The National Ballet of Canada and Kaeja d'Dance. Her works combines social history, material culture, production skills, and museum studies to create critical approaches to preserving and displaying Canadian dance history.

MICHAEL RIPLEY
Marketing & Sales Co-ordinator / In-House Designer
Prior to entering his role as Marketing & Sales Manager for DCD, Michael worked as the director of Sales, Marketing & Circulation at The Dance Current magazine. Also an accomplished graphic designer Michael maintains DCD's website and has laid-out 5 books for Dance Collection Danse Press/Presse. Through his design company Talented MR. and his private sector work with Pipeline Communications, Michael has developed creative solutions for Theatre Direct, The Canada Council for the Arts, The Heart & Stroke Foundation, Labatt's Brewery, Canadian Tire and Canadian Contemporary Dance Theatre.
BOARD OF DIRECTORS
Jane Spooner, Chair
Peter Mak, Secretary/Treasurer
Amy Dietz
Jenna Kramer
Taisha Lewis
Laurie Nemetz
Kevin A. Ormsby
Nadia Potts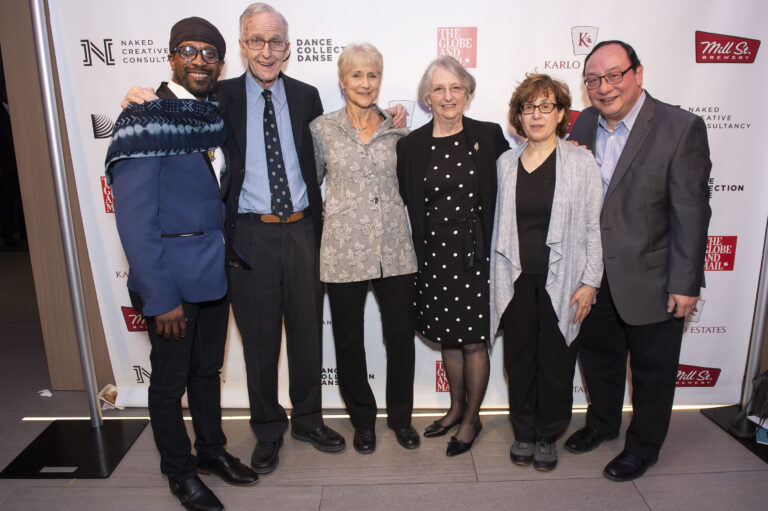 GUEST CURATORS
CAROL ANDERSON
Carol Anderson is an award-winning contemporary dance artist – performer, teacher, choreographer, writer, movement educator and director. She started her performing career in 1970 with pioneer Judy Jarvis's first dance-theatre company, and has performed, taught, and choreographed in professional, educational, and community settings across Canada. A founding member of Dancemakers, she danced, taught, choreographed, and served in directorial roles with the Toronto company from 1974-89. An avid dance author whose writing has chronicled Canadian dance and dancers since the late 1980s, she has often worked with Dance Collection Danse to create notes, articles, books, and online resources. She's also published two books of poetry. Carol was on the dance faculty at York University from 2002-2016. Currently she teaches older movers, continues to perform, and creates dance/text installations for gardens, galleries, and other non-traditional settings. She is a Creative Team member of Flight: Prince Edward County's Festival of Contemporary Dance.
Exhibits:
Choreographic Dialogues; Enter Dancing: Narratives of Migration
SEIKA BOYE
Exhibits:
It's About Time: Dancing Black in Canada, 1900-1970; Dance Historian of the Month
CAROLYN CLARE
Exhibits:
Dance Historian of the Month; Renegade Bodies: Canadian Dance in the 1970s
RAY ELLENWOOD
Exhibit:
Encore! Encore! Exhibit Jeanne Renaud Interdisciplinary Innovation
MICHELE GREEN
Exhibit:
Encore! Encore! Exhibit David Earle: A Choreographic Biography
PAMELA GRUNDY
Exhibits:
Encore! Encore! Exhibit Judy Jarvis; Rocking the Boat: Queer Content in Canadian Concert Dance
CHRISTOPHER HOUSE
Born and raised in St. John's, NL, Christopher House is a choreographer, performer, director, educator, and curator. He was resident choreographer and a leading dancer with Toronto Dance Theatre from 1979-2020, the last 26 years as Artistic Director, and worked with many companies and artists including The National Ballet of Canada, Les Grands Ballets Canadiens, Ballet Gulbenkian, Cirque du Soleil, Kimsooja, and The Hidden Cameras. His works have been performed in 19 countries. He has had a long career as a performer, most recently in collaboration with Ame Henderson, Jordan Tannahill, and post-modern icon Deborah Hay. Recent projects include choreography for I Forgive You (Artistic Fraud) at the National Arts Centre and his solo New Tricks (2022) in Toronto, St. John's, Vancouver, and Victoria. He is currently working with Dance Collection Danse on an exhibition on the impact of HIV/AIDS on Canadian dance, and is a long-time Associate Dance Artist of the NAC and a member of the Order of Canada.
Exhibit:
The Impact of HIV/AIDS on Canadian Dance (UPCOMING)
ALLANA LINDGREN
Exhibits:
Encore! Encore! Exhibits Françoise Sullivan – Infinite Originality; Jeanne Renaud – Interdisciplinary Innovation
KAIJA PEPPER
Kaija Pepper's writing on dance has found a home in many national and international newspapers, magazines, anthologies, journals, and theatre programs. Her trio of books on Canadian dance — The Man Next Door Dances: The Art of Peter Bingham (2008 City of Vancouver Book Award Finalist), The Dance Teacher: A Biography of Kay Armstrong, and Theatrical Dance in Vancouver: 1880s-1920s — were published by Dance Collection Danse Press/Presse. As editor of the now web-based Dance International, Kaija appreciates the opportunity to connect with writers from across Canada and around the world. Her 2020 book, Falling into Flight: A Memoir of Life and Dance (Signature Editions), was described by The Georgia Straight as "terrific storytelling" and "utterly compelling," and "highly recommended" by the Vancouver Sun.
Exhibit:
Encore! Encore! Exhibit Theatrical Dance in Vancouver: 1880s-1920s
KATELYN ROUGHLEY
Katelyn Roughley, BA, MMSt, is the Director of Education and Programming at Canada's Sports Hall of Fame. She has been fascinated with experiential learning ever since she visited the ROM's iconic Bat Cave when she was only five years old. With nearly a decade of experience curating exhibits and interactive programming in Toronto, Saskatchewan, and Calgary, she's making her mark on the Canadian museum scene by creating inspirational learning experiences that empower youth to reach their full potential. Katelyn interned with DCD during her graduate studies and co-curated an exhibit during that time; she was then commissioned to curate an exhibit that would feature Maud Allan's recently conserved 1906 Vision of Salomé costume.
Exhibits:
Drawn to Dance: Selected Works by York Wilson, John Martin Alfsen and Grant Macdonald (co-curated with Amy Bowring), Maud Allan: An Edwardian Sensation
TROY EMERY TWIGG
Exhibit:
By Invitation Only: Dance, Confederation and Reconciliation (co-curated with Amy Bowring)
Dance Collection Danse provides a variety of services for modest fees or gratis. Questions can be directed to info@dcd.ca or 416-365-3233.
Archival and Artifact Acquisitions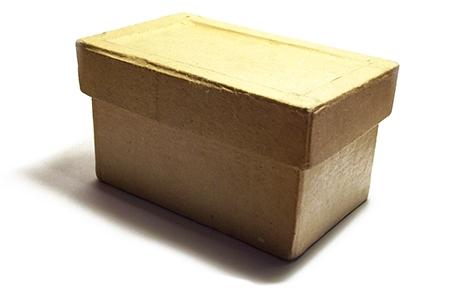 DCD regularly receives materials related to dance in Canada. Requests to deposit must fit the criteria of DCD's Collections Policy and will be approved by the Collections Committee. DCD must be contacted before materials can be deposited. Donors are encouraged to organize their materials in advance and remove items not collected by DCD. There is no fee to deposit materials at DCD; however, monetary donations to help us continue our work are always appreciated. One banker's box of archival materials costs approximately $600 to process, not including long-term storage costs. Transportation of materials is determined on a case-by-case basis. Once deposited, a deed of gift form is sent to the donor to transfer ownership of the materials to DCD. Note that copyright of materials is determined by Canadian copyright law and is not transferred with the change in ownership. Privacy restrictions can also be set by the donor in discussion with DCD. Donors will continue to have access to their materials within the Reading Room at DCD.
Archival Consultation
Archival Consultations are offered to Canada's non-profit arts community and independent artists for free. If deeper, ongoing archival consultations or services are required, a fee can be negotiated.
Research
Packages of requested research materials can be developed for a cost of $30/hour plus duplication fees. Making an appointment and visiting the Reading Room is free. All requests receive up to an hour of free consultation (by phone or internet) to determine existing resources and the feasibility of deeper research. Be sure to check DCD Discover as well as our many exhibitions, books, and magazines to see if research materials are already available for your topic. Note that DCD Discover will continue to be populated over time so be sure to check back. You can use the search bar at the top of each page of the website to look for materials. If you still haven't found what you need or perhaps need to dig deeper, contact us at info@dcd.ca or 416-365-3233 and tell us about what you want to research. We can help you with an in-person research appointment in our Reading Room, a meeting to discuss resources, or the digitization of materials to add to DCD Discover for you to access. Your research interests will help guide the digitization priorities for DCD Discover.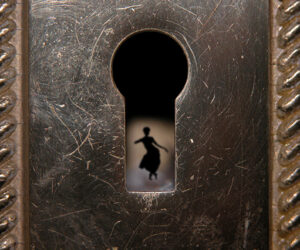 Please note that retrieving materials from off-site storage usually takes 2 or 3 days. There is a cost to DCD for retrievals – we appreciate any donations made to offset those costs.
Duplication Fees
Audio Digitization $25 per cassette/disk
Video Digitization $25 per DVD or VHS tape (other formats TBD)
Document/Photo Digitization $15 per scan (up to 11×17")
Oversized Document/Photo Digitization $40 per scan (larger than 11×17")
Photocopies (must be done by DCD staff) $0.35 per page
Photographing documents for research purposes in the Reading Room is permitted.
Digitization
DCD soon hopes to provide the dance community with robust digitization services for documents, photos, DVDs, and VHS tapes. Stay tuned for more information in 2023.
Lectures and Presentations
DCD offers a variety of lectures on topics in dance history. The speaker fee for a 60- to 90-minute lecture is $250, as well as transportation, accommodation, and per diem if applicable. Guest lectures at post-secondary programs can be given for the fee determined by each institution.
Exhibitions
DCD can assist organizations with live or virtual exhibitions through either consultation or curation. Exhibits can take anywhere from 1-3 years to research and plan depending on the scope, topic, and availability of material. Fees can be negotiated based on the scale of the request. All projects must fit within DCD's programming schedule, which is planned 4 years in advance. Smaller projects may be able to be added to an existing program cycle but larger projects may have to wait until the next planning cycle.
Artifact Loans
DCD provides artifact loans to other heritage organizations for free, with transportation and additional insurance covered by the borrower. Costumes can be loaned to performing arts organizations for reconstruction purposes only and follow the same procedures as artifact loans.
Workshops
DCD offers its Grassroots Archiving Workshop to the arts community. This workshop teaches the basics of archiving and preventive conservation for individual artists and arts organizations who wish to maintain a collection. The workshop is 90 minutes and the fee is $250, plus transportation, accommodation, and per diem if applicable.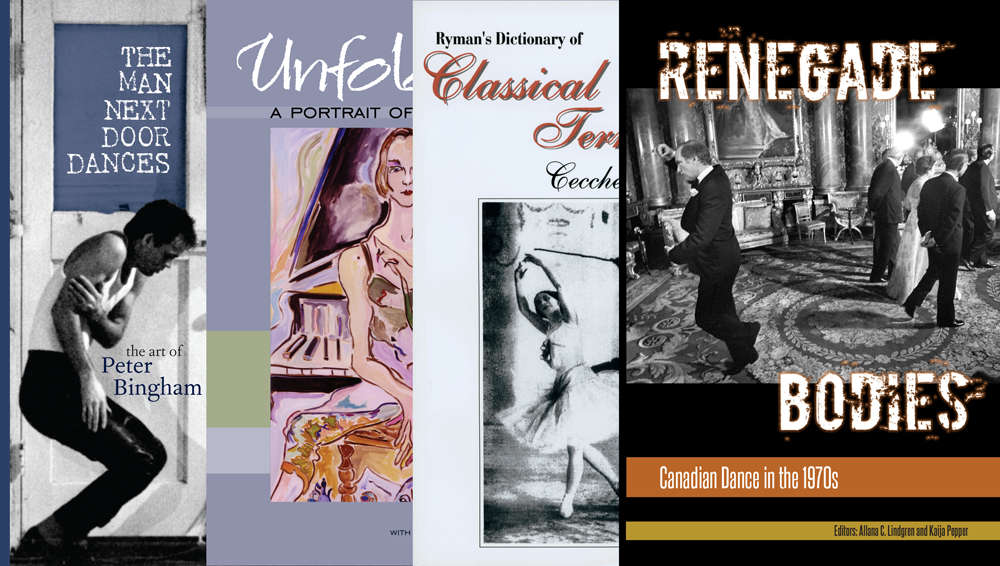 Publishing
In the late 1980s, DCD began its electronic publishing program as home computer use spread throughout the nation. Jill Officer's Encyclopedia of Theatre Dance in Canada; two editions of Just Off Stage, which included articles on dance personalities; Felix Cherniavsky's Did She Dance (about Maud Allan and her art); Bernadette Carpenter's 1950s SPOTLIGHT Newsletters; and Rosemary Deveson's Dancing for de Basil were published on computer disk. In 1992, DCD began publishing books in print and has now published 41 titles as well as two e-books. With changes in how book publishing is funded in Canada, DCD has turned to fee-for-service publishing. If you have an idea for a book, learn more about our publishing process here.
Dance Collection Danse Magazine is published annually in the fall and is the only magazine in the nation dedicated to Canadian dance history. The print edition of the Magazine is available for $10 annually (subscribe here) and is free to donors. The PDF format of all back issues is available here for 99 cents or free to subscribers of DCD's e-news list; subscribe to the e-news here. Articles are commissioned a year in advance and due August 1. To pitch an idea, send a 200-word abstract to info[at]dcd.ca. DCD welcomes new authors and has a long history of mentoring young dance historians. If you are interested in advertising in the magazine, find our ad kit here
Saving the Dances
DCD's collection includes a repository of reconstruction materials and some notation scores for choreographers such as Peggy Baker, Paul-André Fortier, Judy Jarvis, Santee Smith, Little Pear Garden, Gadfly, Gweneth Lloyd, Boris Volkoff, Nancy Lima Dent, Françoise Sullivan, Jeanne Renaud, and Nesta Toumine. We can assist groups wanting to reconstruct works by supplying research materials, notation scores, video, and by connecting dance artists to the original choreographers where possible. Contact DCD if you would like to know more about reconstructing work, having your work notated, or accessing notation scores.
DCD also loans copies of the booklet/DVD sets created for Peggy Baker's The Choreographer's Trust. Learn more about The Choreographer's Trust HERE. Please note that due to copyright, The Choreographer's Trust sets are not available for sale. The choreographic material presented in the booklets and DVDs is owned by Peggy Baker. It is intended for use in classroom/studio context by dance students and scholars and offered via a non-exclusive, royalty-free license for educational purposes only. Should you wish to perform this work in any context, including performances within educational institutions, you will require a license agreement for Peggy Baker. To enquire about licensing, please contact DCD.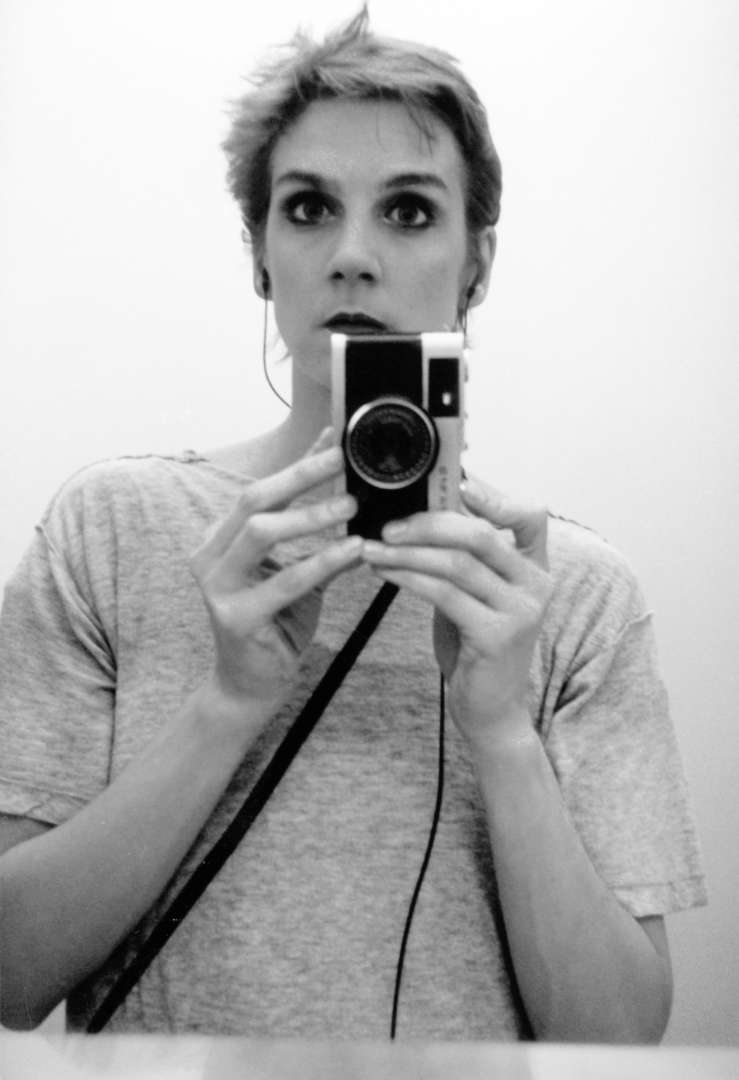 Programming
In addition to maintaining its collection, DCD also offers a range of programming and events including live and virtual lectures and presentations, screenings, publications, live and virtual exhibitions, and the annual Dance Collection Danse Hall of Fame. To stay up to date on DCD's activities, be sure to join our mailing list by clicking here.
Touring Panel Exhibits
These panels are available to rent. Make inquiries at info[at]dcd.ca
Dalcroze
By Invitation Only: Dance, Confederation and Reconciliation
It's About Time: Dancing Black in Canada, 1900-1970
Mandate
Dance Collection Danse is mandated to foster, encourage, and promote dance history in Canada through education, research, performance, and publication.
Collections Policy Summary
Dance Collection Danse serves to collect, preserve, research, interpret and exhibit artifacts and archival records that reflect and document the history of dance in Canada and contribute to an understanding of artists, activities, events, institutions, organizations, and individuals relevant to the history of dance in Canada.
The decision to accept a collection is made by the DCD Collections Committee and will depend on:
its relevance to the history of dance in Canada
its relevance to other artifacts and records in the collection
its condition
its exhibit and research potential and
Dance Collection Danse's ability to maintain the collection in a safe and secure environment.
The collection must be representative of dance in Canada and priority will be given to artifacts and archival records associated with key periods, events, places, organizations, institutions, businesses, and individuals.
All genres of dance practiced in Canada in either a sacred, social or theatrical setting will be collected.
Dance Collection Danse acknowledges that the land on which we work is the traditional territory of the Huron-Wendat, the Anishnaabeg, Haudenosaunee, Métis, and the Mississaugas of the Credit First Nation. It has been a site of human activity, including dance, for at least 15,000 years and we are grateful to all the caretakers, both recorded and unrecorded, of this land and of Turtle Island. Today, the meeting place of Tkaronto/Toronto is still the home of many Indigenous people from across Turtle Island and we are grateful to have the opportunity to work and dance in the community, on this territory.
INDIGENOUS KNOWLEDGE CIRCLE
ARCHIVING INDIGENOUS PERFORMANCE IN CANADA
In collaboration with the University of Waterloo and with funding from the Social Sciences and Humanities Research Council, DCD is working with a circle of artists and arts & heritage workers from different Indigenous Nations within what is now Canada. "Dancing Histories" seeks to increase DCD's knowledge of Indigenous ways of knowing and working, and to develop policies and procedures for working with Indigenous artists and communities ensuring that Indigenous dance history lives on for future generations..
WE ARE GRATEFUL TO THE MEMBERS OF THE INDIGENOUS KNOWLEDGE CIRCLE:
Margaret Grenier
Cynthia Lickers-Sag
Tanya Lukin Linklater
Émilie Monnet
Doe O'Brien-Teengs
Karen Pheasant-Neganigwane
Troy Emery Twigg
Jera Wolfe
Research Assistant Amy Hull
DCD DISCOVER (Coming Soon)
PERSONNEL
Miriam Adams, C.M.
Co-founder/Advisor
Amy Bowring
Executive and Curatorial Director
Jay Rankin
Administrative Director
Vickie Fagan
Director of Development and Producer/Hall of Fame
Elisabeth Kelly
Archives and Programming Coordinator
Michael Ripley
Marketing & Sales Coordinator
CONTACT
1303 – 2 Carlton St.
Toronto, ON
M5B 1J3
Canada
Phone: 416-365-3233
Fax: 416-365-3169
info [AT] dcd.ca
HOURS
Mon. – Fri. 10 a.m. – 5 p.m.
Appointment Required
Contact our team by email or call one of the numbers above