ALISON SUTCLIFFE (1909-2011)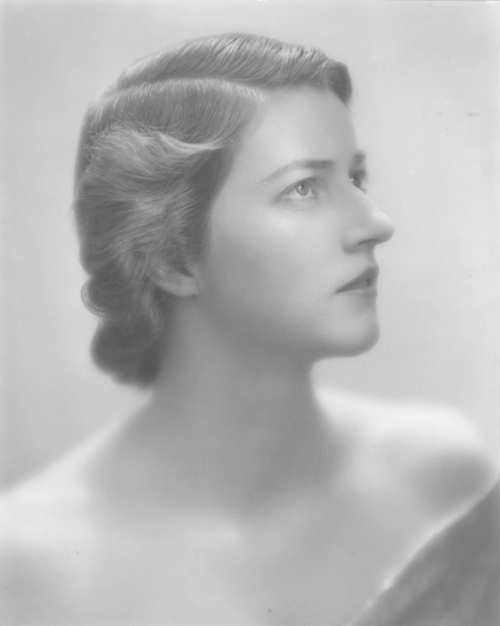 Toronto-born Alison Sutcliffe became a member of the Association in 1933 when she travelled overseas to study and take her ballet exams. Originally trained by Leon Leonidoff and Florence Rogge in Toronto in the 1920s, Sutcliffe danced for three seasons with the Metropolitan Opera Ballet in New York City in the late 1920s and is likely the first Canadian to join the Met Ballet. She returned to Toronto in 1929 just after the stock market crash and soon found work teaching ballet at Cecil DaCosta's studio as a complement to the ballroom classes he taught. She quickly developed contacts at Hart House Theatre and the Toronto Conservatory of Music and carved out a place for herself as a teacher of ballet, Spanish dance, and Expressionist modern dance at the Conservatory, while she also served as the Director of Dances at Hart House Theatre. This involved choreographing danced sections of theatre productions by directors such as Andrew Allan, Roy Mitchell, and Dorothy Goulding, among others. Her travels to the UK in 1933 included classes with Phyllis Bedells, Adeline Genée, and Felix Demery, all founding members of the RAD, and led to passing her Elementary ballet exam in June followed by Intermediate and Advanced exams in September. She was also able to expand on the Spanish dance training she had begun in New York by taking classes with Elsa Brunelleschi in London. Future summer travels throughout the 1930s involved studies with Expressionists Mary Wigman in Germany and Kurt Jooss in England, which informed both her teaching and her choreography
Sutcliffe is a figure who is often missing from the story of the RAD in Canada. She deposited a significant archival collection to Dance Collection Danse when she was nearly a century old and, consequently, her true and significant role in the history has since been revealed. Though she taught for only about a decade, and was a bit of a rebel when it came to following the RAD syllabus, she is the catalyst for a series of events that led to the RAD's substantial expansion into Canada. It was Sutcliffe who introduced Bettina Byers to the RAD method and took her to England in the 1930s to study with RAD teachers such as Phyllis Bedells. Bedells subsequently encouraged Byers to become the first organizer for the RAD in Canada. In her capacity as organizer, Byers assisted Adeline Genée with her lecture-demonstration tour to central Canada during the Second World War – another key event in the growth of the RAD in Canada. Without Sutcliffe, the Canadian expansion of the RAD would undoubtedly have been delayed.
TRANSCRIPTION
Dear Mother
Everything is going along merrily here. When am I going to hear from [you] or are you waiting to reply to one of my letters[?]
I went with Mrs. Gowans and Wendy to [Tamara] Karsavina's this morning. I can thank my lucky stars that I went to Miss Bedells. I would have been the unhappiest person if I had gone to Karsavina. Wendy Gowan, who studied with Miss Marsh for five years and has been taking everyday for four years from Karsavina's, is what I would call a sad case. Maybe she is unhappy or discouraged. She is stout. I did not like her personality and she hasn't good technique. Hallie Radcliffe, the assistant, was there. I felt I was a star beside them. I like Bedell's much better. She [Bedells] got a ticket for the Adeline Genée Tribute banquet [for me]. About 200 there. I sat with some well known teachers and had an interesting time. The speeches were good. Bedells & Karsavina & some Lord were receiving. Karsavina spoke very nicely. Genée is dear – Danish. A sincere artist. So is Bedells.
I bought a pair of Italian toe slippers for 4 shillings. They are harder than we got at the Met, but not as hard as ordinary canvas toe shoes. As a rule, canvas are not made as well but these fit very well.
I will write you later as to how I am getting along with Operatic work. I am very much at sea re the theory. That means also the practical because when they tell you what to do I can't do it until I see someone do it. I have not settled down to study. Went to the Beaumont bookstore to ask him what would help me. He has written a book on the Cecchetti method but it [Beaumont's bookstore] was closed until July 6th. Went to another but could not find anything suitable. Miss Burton, one of Miss Harding's teachers, is coming in in the morning. She has passed the Operatic exams and is very much up to date. I am going to see if she will swap work. I will do a little more study tonight. I learn a little every day. I need a French dictionary I think. I wrote Mrs. Washington and told her I thought Wendy would have been just as far ahead if she had studied at home to the same extent she has with Karsavina. I am going to take a private [lesson] with Miss Bedells on Wed. I will do some work.
Much love,
Alison
DCD DISCOVER (Coming Soon)
PERSONNEL
Miriam Adams, C.M.
Co-founder/Advisor
Amy Bowring
Executive and Curatorial Director
Jay Rankin
Administrative Director
Vickie Fagan
Director of Development and Producer/Hall of Fame
Beth Dobson
Archives and Programming Coordinator
Michael Ripley
Marketing & Sales Coordinator
CONTACT
1303 – 2 Carlton St.
Toronto, ON
M5B 1J3
Canada
Phone: 416-365-3233
Fax: 416-365-3169
info [AT] dcd.ca
HOURS
Mon. – Fri. 10 a.m. – 5 p.m.
Appointment Required
Contact our team by email or call one of the numbers above