Inductee Spotlight – Karen Pheasant-Neganigwane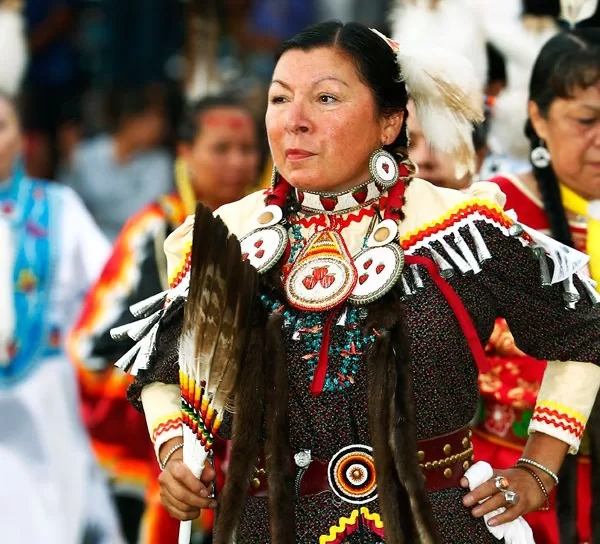 support this celebration of THE BEST IN CANADIAN DANCE
Since its launch in 2018, The DCD Hall of Fame has inducted 49 dance luminaries and employed over 50 arts workers. We have engaged more than 40 committed volunteers to help ensure the day stays on track!
We couldn't do it without them and the support of donors and sponsors like you! Please help us keep the DCD Hall of Fame thriving by donating to our matching campaign!
Photos of Karen Pheasant-Neganigwane by Bert Crowfoot

INDUCTEE SPOTLIGHT – Karen Pheasant-Neganigwane
Karen Pheasant-Neganigwane is a dancer, scholar, writer, artist, and orator from Wiikwemikoong, Manitoulin Island, Ontario, but did you know…?
A daughter of residential school survivors, Karen's path to activism and scholarly work started as a youth during the height of the civil rights era of the 1970s. The social project of Rochdale College (Toronto) provided the embryonic opening for her inquisitive spirit;
Shortly after an engaging ceremony with a great Indigenous philosopher and scholar, Dr. Joe Couture, in the early 1980s, she left Toronto;
She has spent the past 40 years being mentored by iconic Indigenous scholars from the Great Lakes of her people to Treaty Three, Treaty Six, and currently in Treaty Seven;
Her Western education includes a B.A. in Political Science and English Literature, and graduate studies in Educational Policy Studies from the University of Alberta. She is completing a PhD in Educational Policy Studies/Indigenous Peoples Education with the University of Alberta;
Karen is an Assistant Professor at Mount Royal University in the Treaty Seven region in the Department of General Education, Office of Teaching and Learning, and the Department of Humanities–Indigenous Studies;
A life-long powwow dancer, Karen is the author of the award-winning book Powwow: A Celebration Through Song and Dance, which takes readers on a journey through powwow's history and today's thriving powwow culture.
Please help the DCD Hall of Fame in its mission to honour the greats of Canadian dance by donating to our matching campaign! Your support matters.
Our campaign goal is $20,000 with matching funds of $10,000 from an anonymous donor. We can't do it without your support! Every dollar earned goes towards the production of this event and helps feed into the daily operations and projects that Dance Collection Danse runs throughout the year. Every bit helps.