Inductee Spotlight – Jean Stoneham Orr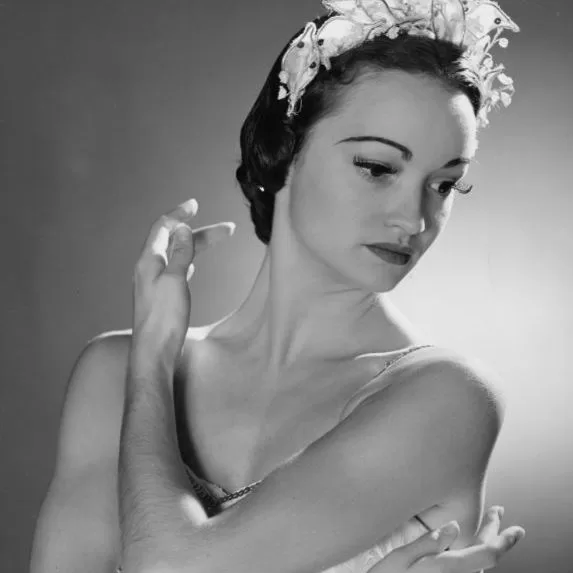 support this celebration of THE BEST IN CANADIAN DANCE
Since its launch in 2018, The DCD Hall of Fame has inducted 49 dance luminaries and employed over 50 arts workers. We have engaged more than 40 committed volunteers to help ensure the day stays on track!
We couldn't do it without them and the support of donors and sponsors like you! Please help us keep the DCD Hall of Fame thriving by donating to our matching campaign!
Jean Stoneham, Winnipeg Ballet, c. 1951
Photo: Phillips-Gutkins and Associates Ltd.
INDUCTEE SPOTLIGHT – Jean Stoneham ORR
Jean Stoneham Orr is a beloved member of the Vancouver dance community for her support of artists and her half-century of volunteerism, but did you know…?
Jean Stoneham Orr was born in Edinburgh and came to Canada when she was still an infant. Her family settled in Saskatoon, which is where she started Highland dance. Her family moved to Vancouver when she was 9 years old and she began studying ballet.
They moved to Ottawa during the Second World War and she continued her studies with Yolande Leduc and then Nesta Toumine.
Jean was Canada's first Giselle performing the role for the Ottawa Ballet Company in 1948 (directed by Leduc and Toumine). She danced with the Royal Winnipeg Ballet from 1951-1954.
She married in 1954, which led to a hiatus with dance until she and her husband moved to Vancouver in 1971. Here, Jean became heavily involved in the Vancouver Ballet Society (VBS) as a volunteer.
In the 1980s, she was the administrator for the VBS and played a substantial role in co-founding Ballet BC, for which she was also founding president of the board.
Please help the DCD Hall of Fame in its mission to honour the greats of Canadian dance by donating to our matching campaign! Your support matters.
Our campaign goal is $20,000 with matching funds of $10,000 from an anonymous donor. We can't do it without your support! Every dollar earned goes towards the production of this event and helps feed into the daily operations and projects that Dance Collection Danse runs throughout the year. Every bit helps.